Little and Big Music Disagree On 'iTunes Match'
iTunes Match was Steve Jobs' "One More Thing at WWDC this year. It allows users to get the same backup and "download anywhere" benefits from legitimate iTunes purchases as well as any other music they might have, regardless of where it was acquired. Or, as All Things Digital's Peter Kafka put it:

Apple will take the songs you've stolen, and turn them into legit files, with big music's blessing.
Big music might have agreed to Apple's pirate amnesty scheme, but little music may not fall in line quite so quietly.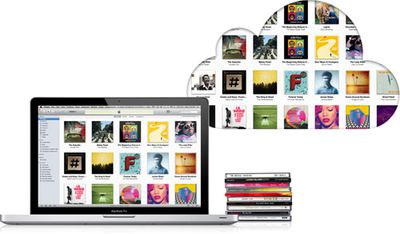 Rob Sevier, owner of Chicago-based Numero Group -- a tiny record label that specializes in old Soul music -- thinks iTunes Match is a raw deal. In a chat with Ars Technica's Chris Foresman, Sevier explained the effect of piracy on a small record label like Numero.

[M]any of Numero's releases sell in the range of about 10,000 copies total, including physical and digital formats. Yet, the label has found copies of tracks from its albums on sharing sites such as MediaFire or RapidShare with download counts that far exceed sales numbers.

"People will rip your album and upload them, and you can see how many people are downloading it," Sevier explained. "And in some cases people are downloading our stuff like 80,000 times or more. We have seen, on average, anything from 10 to 20 times more downloads than legitimate sales."

"There's no way that we're not going to see matching that exceeds what we're selling legitimately," Sevier said.
This is nothing new. Six years ago, the Supreme Court ruled that Grokster and StreamCast "induced users to violate copyrights and chose not to take the simple steps available to prevent it." The Economist, writing about the case in 2005, noted "the challenge for content providers is to use new technology to create value for customers, and to make those who use content illegally feel bad about it."
If, as Sevier claims, Match is bad for the artist and the record company, then it must be good for the consumer. Sevier, for one, thinks so:

[iTunes Match is] brilliant. I will definitely use the free version since I'll be able to access all of the stuff I've bought from iTunes and not have to permanently store it all on my computer.
But clearly some of the big record execs like it too. Labels hope iTunes Match will supply them with three important things: Some amount of revenue for pirated music is better than nothing; labels will get more feedback about the types of music that consumers are listening to; and, they hope, iTunes Match will get customers into the habit of paying for music again -- at least in a subscription form.