Apple Poised to Benefit from U.S. Government's Five-Year Push for Digital Textbooks
The Associated Press reports on a new initiative from the U.S. government to help push schools and textbook companies make the transition to digital textbooks over the next five years. With Apple pushing itself to the forefront of the digital textbook discussion with its iBooks Textbooks launch just two weeks ago, the company stands to significantly benefit if its iPad hardware becomes a primary tool in the move to digital textbooks.
Education Secretary Arne Duncan and Federal Communications Commission chairman Julius Genachowski on Wednesday challenged schools and companies to get digital textbooks in students' hands within five years. [...]

Tied to Wednesday's announcement at a digital town hall was the government's release of a 67-page "playbook" to schools that promotes the use of digital textbooks and offers guidance. The administration hopes that dollars spent on traditional textbooks can instead go toward making digital learning more feasible.
The report notes that the K-12 textbook industry is an $8 billion per year market in the U.S. and that textbook companies have been working for a number of years on digital initiatives. The primary roadblock, according to the textbook publishers, has been that schools simply don't have the hardware necessary to make the full commitment to digital learning.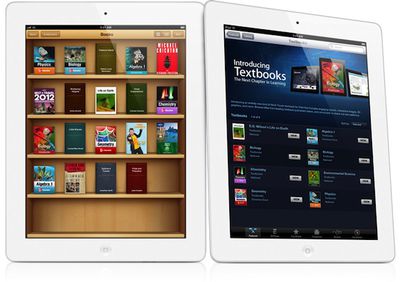 With the iPad starting at $499, pricing is undoubtedly still a significant hurdle for schools that will need to purchase the devices in significant quantities, although Apple has been rumored to be looking to bring the entry-level pricing down in the coming months by continuing to offer the iPad 2 alongside the new iPad 3.