Photos of Debug Software Show Alleged Details of iPad 3 with Quad-Core A6 and LTE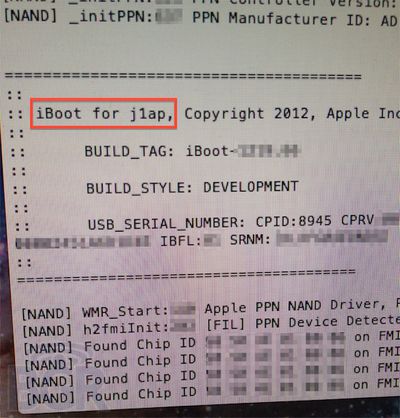 BGR reports that it has received from a source photos of what are claimed to be screenshots from Apple's iBoot development and debugging software for the bootrom showing details on an iPad 3. The screenshots, which show references to the known "J1" and "iPad3,1" code names, reveal that the device will indeed be using a new application processor carrying an S5L8945X identifier, presumably as part of a new A6 system-on-a-chip.
For starters, the model numbers are J1 and J2 (iPad3,1 and iPad3,2), and while DigiTimes reported this a few weeks ago, these two models are not different devices, just a single iPad available in two versions — one with Wi-Fi only and one with Wi-Fi and embedded GSM/CDMA/LTE for all carriers. Also included in the photos is, for the first time, confirmation of which processor Apple will be using in the iPad 3: an A6 processor with model number S5L8945X. For reference, the Apple A4 model was S5L8930X and the A5 is S5L8940X.
The report notes that the processor is expected to be of the quad-core variety, up from the current dual-core processor used in the A5 on the iPad 2 and iPhone 4S. The report also reiterates claims that the iPad will support LTE alongside GSM and CDMA 3G networks in a single device.


BGR offers no assessment of the reliability of the source of the photos, and iBoot output could be easily faked, but if legitimate the details bolster claims that the iPad 3 will be a major upgrade to the popular tablet device.