Macworld 2012: Autodesk Inventor Fusion for Mac Coming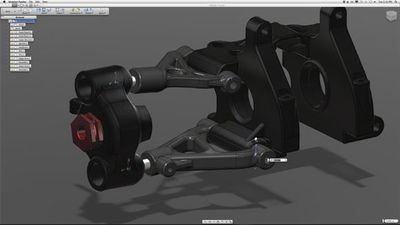 Autodesk was at Macworld showing off a new product for the Mac called Autodesk Inventor Fusion. Autodesk Inventor Fusion is an existing 3D mechanical design software on Windows, but will soon become available for the Mac for the first time.
Autodesk made headlines back in 2010 when they returned to the Mac platform after a two decade hiatus. Due to the success they've seen with their existing Mac products, the company will be bringing Inventor Fusion to the Mac.
In the next few weeks, Autodesk will be releasing a free Technology Preview for the program which will allow Mac users to download an early version and provide feedback. The final release will come at some point later. Inventor Fusion is meant to be an easier to use tool focused on mechanical design which incorporates physical properties of objects.
Autodesk® Inventor® Fusion is 3D modeling software that showcases intuitive direct manipulation capabilities for unrivaled ease of use. By uniting direct modeling and parametric workflows, Inventor Fusion offers the best of both worlds. Designers can freely explore complex shapes and forms while maintaining the underlying parametric history. Inventor Fusion makes it easy to open and edit 3D models from almost any source and incorporate them into your design, enabling rapid design changes without limitations.
The software will include seamless cloud access for storage, collaboration and web viewing. Autodesk has a
Facebook page
set up for Inventor Fusion and will be announcing the Mac download in the near future.