Apple Sold 1.4M Apple TVs in Most Recent Quarter vs. 2.8M Sold in All of Fiscal 2011
Apple sold 1.4 million Apple TV set-top boxes in the Q1 2012 quarter, Apple CEO Tim Cook disclosed during today's earnings call. Cook also disclosed that Apple sold 2.8 million Apple TVs in all of fiscal 2011, so the last quarter's results seem to represent a significance acceleration of sales for the product.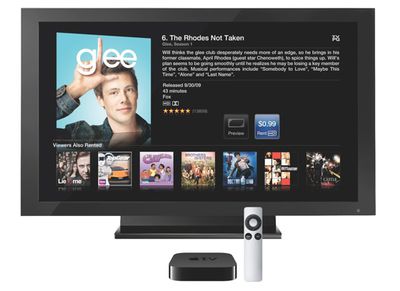 The current generation Apple TV was released at the beginning of fiscal 2011, which means Apple has sold 4.2 million 2nd Generation (iOS-based) Apple TVs in total. This is fairly impressive, especially considering Google's set-top box efforts have fallen flat thus far. However, even with these numbers, Tim Cook still considers Apple TV a "hobby" simply because on a dollar-for-dollar basis, the device barely makes a dent in Apple's earnings numbers.
Answering an analyst's question about Apple's living room plans for the future, Tim Cook dodged the obvious inference to an Apple-branded television set and instead noted:

We continue to add things to it, and I don't know about you but I couldn't live without it. We continue to pull the strings and see where it takes us.
In the past year, Apple has added support to Apple TV for the streaming service from Major League Baseball, the National Basketball Association, and the National Hockey League, among others.