Apple Saw No Change in iPad Sales Following Kindle Fire Introduction
Contrary to some reports, Apple CEO Tim Cook said today that the company hadn't seen any slowdown in iPad sales following the introduction of the much-hyped Kindle Fire tablet.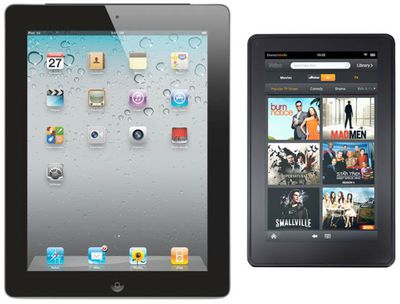 When asked by an analyst during today's quarterly earnings call about the impact on the iPad from lower priced tablets, Cook noted that the company sold a record 15.4 million iPads and that Apple doesn't consider "limited function tablets and e-readers to be in the same category as the iPad". A big reason for the iPads success, Cook believes, is that the ecosystem for the iPad is "in a class by itself".

We strongly believe in optimizing applications from day one to take advantage of the larger canvas. There are only a few hundred apps designed for the competition, versus more than 170,000 apps designed specifically for iPad. People who want an iPad won't settle for a limited function tablet.
Apple execs have said before, and Cook reiterated today, that they believe tablets will pass the PC market in units, and that in the United States according to IDC, tablets outsold desktop PC's last quarter on a unit basis.
Throwing down the gauntlet to other tablet makers -- who thus far haven't been able to mount a significant challenge to the iPad -- Cook finished by saying Apple was going to "continue to innovate like crazy" and that the company will continue to compete with any company currently shipping tablets, or anyone who may enter the market in the future.
The next generation iPad 3 with a high-resolution Retina Display is expected to be introduced in the next few months.