Kindle Fire Seen Slowing Some Previously-Planned iPad Purchases
With Amazon's forthcoming Kindle Fire tablet staking out a new position at the bargain end of the tablet market with its $199 price tag, some have wondered how significantly the device will eat into Apple's potential iPad sales.
A new survey from RBC Capital Markets and ChangeWave Research now puts some numbers to that impact, revealing that 26% of those surveyed customers who have either already pre-ordered a Kindle Fire or are "very likely" to purchase one have either delayed or put on indefinite hold previously-planned iPad purchases.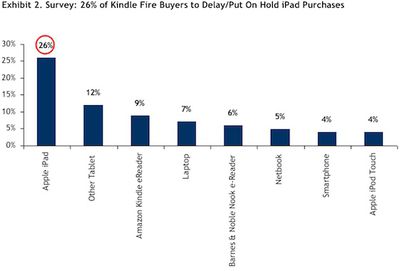 The survey also reveals relatively strong overall interest in the Kindle Fire, with 5% of survey respondents registering as either having already pre-ordered or being very likely to purchase the device. That compares with 4% of respondents who had indicated similar intent for the original iPad back in February 2010. The tablet market is of course at very different level of maturity now, however, given that Apple's iPad has sparked consumer interest in the form factor.
For its part, Apple has reportedly indicated that it welcomes the arrival of the Kindle Fire, suggesting that yet another Android-based tablet entrant heavily customized to integrate with Amazon's services will further fragment that platform and drive more customers toward the stability of Apple's iOS.