Hundreds Lining Up for iPhone 4S at Chinese Apple Stores
With close to twelve hours still to go until opening time, Tech in Asia reports that Apple's five retail stores in China are seeing huge lines for the iPhone 4S, with stores said to already be seeing hundreds of people in line.
At the two stores in Beijing, and the three in Shanghai, there are clearly lines stretching hundreds of meters, with reports of hundreds of queuers at each, snaking around city blocks (see more photos below). Most stores have a ticketing system to deter queue-jumpers, but that won't stop the 'scalpers' who buy the phones to resell later at a profit.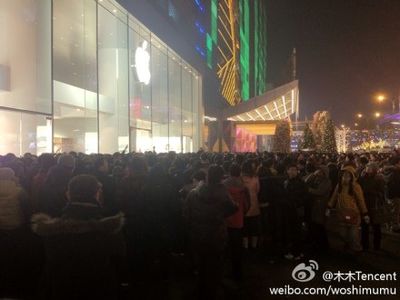 Apple's Xidan Joy City store in Beijing
The report notes that Apple's iPhone partner China Unicom will begin selling the iPhone 4S online at 12:01 AM, but that there is undoubtedly significant interest in unlocked devices sold directly from Apple. Pricing is set at the equivalent of $790/$932/$1,074 for the three capacities of unlocked iPhone 4S models.

Apple's Pudong store in Shanghai
For those customers willing to sign up for a contract with China Unicom, the carrier is offering the iPhone 4S
for free
under certain rate plans and contract lengths.