CES 2012: Panasonic's 20-Inch Display at 216 PPI Arrives Amid Rumors of 'Retina' MacBook Pro
Last month, Apple was rumored to be preparing to launch a 'Retina'-resolution 15-inch MacBook Pro early this year carrying a resolution of 2880x1800 pixels. The rumors are also being fueled in part by OS X 10.7.3 beta versions showing evidence of continued work on a HiDPI mode to display existing content at the correct sizes for these ultra-high pixel densities.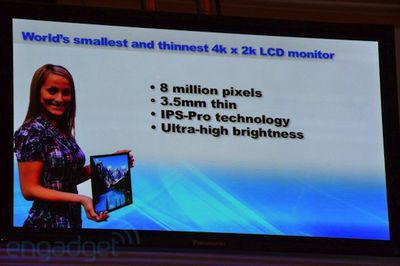 Supporting the idea that displays offering the necessary pixel density are approaching market readiness, Panasonic yesterday showed off (via Engadget) its new 20.4-inch IPS Alpha LCD panel registering at 3840x2160, a density of 216 pixels per inch.
Panasonic Corporation, a leader in high-definition display technology, has developed a 20-inch 4K2K (3,840 x 2,160 resolution, approx. 8.29 million pixels) IPS Alpha LCD panel, the smallest as a 4K2K-resolution display. The new panel has the world's highest pixel density of 216 pixels per inch (ppi) and the thickness of only 3.5 mm, the thinnest in the world. A prototype panel will be unveiled at the 2012 International CES to be held in Las Vegas, United States from January 10 to 13.

IPS Alpha panels are suitable for making ultra-high definition displays because of their simple pixel structure - one of the characteristics of the IPS panels - as well as their high contrast ratio, excellent color reproducibility with rich gradation and the industry's highest-level light transmission rate that were implemented by Panasonic's unique IPS-Pro technology.
Apple's rumored Retina-resolution MacBook Pro would come in at roughly the same pixel density as Panasonic's display, suggesting that the display manufacturers are indeed working on products within the realm of Apple's goals.
Apple's Retina display introduced on the iPhone 4 marked a significant step forward for the smartphone industry, offering the crispest image quality seen on a mobile display. Apple's interest in HiDPI display modes on the Mac and rumors of ultra high-resolution displays for its notebooks suggest that the company is attempting to bring that same leap to larger screens, making for easier reading and sharper images using pixels that are individually indistinguishable at typical viewing distances.