CES 2012: Lenovo Brings Apple's Touchscreen iMac Concept to Life
Back in 2010, an Apple patent publication was published revealing the company's concept for an iMac supporting both mouse-driven and touch-based input with a hinged display arm allowing the screen to transition from an upright position to a horizontal surface.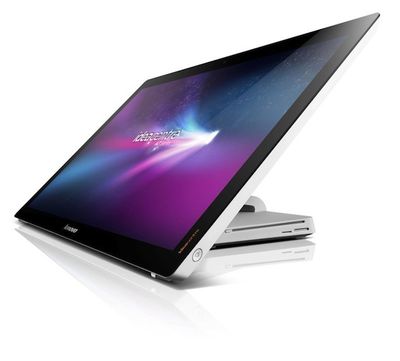 While Apple has yet to release such a product and may have scrapped the idea entirely, Lenovo's new IdeaCentre A720 being shown off at CES this week (via Engadget) offers a similar flexibility in its ability to transition between a traditional all-in-one desktop configuration and a flat, table-top touch surface.
Similar to the HP TouchSmart 610, which debuted around this time last year, it has a display that can be tilted between 5 and 90 degrees, the idea being that that 10-point multitouch panel will be easier to use if it's lying at a near-flat angle. Spec-wise, it'll be offered with various Intel Core i processors, discrete NVIDIA graphics and up to either a 1TB HDD or a 64GB solid-state drive. Expect it to hit sometime in the first half of this year, starting at $1,299.
The Verge also posts a hands-on video showing the IdeaCentre A720 in use in both upright and horizontal positions.
The hands-on demonstration shows a rather sluggish response to touch input, but offers a good glimpse of the flexibility afforded by the multiple orientations.
Apple's patent application included descriptions of sensors that would automatically detect the orientation of the display and adjust the operating system being used accordingly, with the idea being that the computer would utilize a Mac OS X interface in its upright orientation and then transition to an iOS-like touch overlay interface when moved to the horizontal display. While Lenovo's concept does not utilize this automatic sensing, it does offer Lenovo's dedicated IdeaTouch layer on top of Windows 7, which itself allows for touch input.