Apple Discloses Methods for Transitioning Between Mouse-Based and Touch Interfaces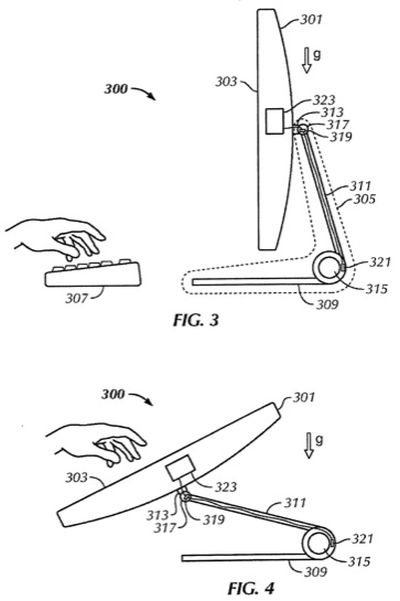 Patently Apple reports
on an Apple
patent application
published earlier this year that discloses how Apple might choose to implement systems for transitioning a single Mac computer between mouse-driven input for Mac OS X and touch-based input for iOS.
The method utilizes sensors such as a rotation hinge located in a stand for an iMac-like computer or accelerometer-based orientation sensors that could allow the device to function as a traditional desktop computer when the screen is positioned vertically or as a large tablet-style device when positioned horizontally.
The change in the orientation of the display can be detected by one or more sensors. For example, an accelerometer in the display can sense the force of gravity along an axis, and the measured force can be used to determine an angle of the display with respect to the ground (i.e., the plane perpendicular to the direction of the force of gravity). A transition between input modes can be performed when the orientation of the display crosses a predetermined threshold, such as when the vertical angle (tilt) of the display crosses a predetermined angle.
As another option, Apple proposes touch sensors located in the frame of the device's display that, when grabbed in the manner of a tablet and combined with a change in orientation detected by accelerometer-based sensors, could initiate a transition between input modes. In any of the described methods, the mode transition could involve a user interface transition between high-resolution mouse-driven actions and low-resolution touch-driven actions.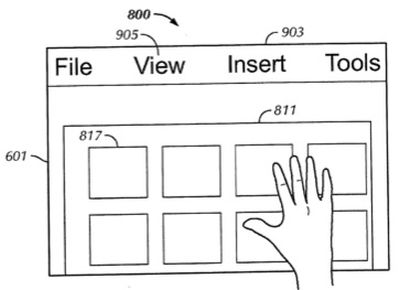 Not limited to desktop computers, Apple's patent application also depicts a notebook-style computer that could transition to a tablet device, with the operating mode adjusting automatically depending on orientation.
Apple has been expressing interest in touch-enabled Macs recently, with a multiple rumors on such an iMac making an appearance sometime this year. And while converting Mac OS X to a touch-specific interface would be a significant undertaking, one former Apple engineer suggested that adding an iOS layer on top of Mac OS X would be a reasonable undertaking.