CES 2012: Apple's Greg Joswiak 'Scouting the Competition'
While Apple doesn't participate at CES and has ended its involvement in trade shows in general, the company naturally continues to keep tabs on what its competition is up to and CES is a prime event for new product introductions. paidContent has in fact proven Apple's interest in CES by chance, running into iOS device marketing chief Greg Joswiak on the floor at the expo.
While wandering around the Central Hall of the Las Vegas Convention Center Tuesday, I bumped into Greg Joswiak, head of iOS product marketing for Apple, just outside of Sony's booth. Joz, as he's known within the Apple community, grinned sheepishly upon being recognized by a reporter and stopped to chat for a few minutes.

Joswiak said he was interested in how other companies present their products at events such as CES, from things like booth layout and aesthetics to which products are highlighted within a company's booth.
Joswiak declined to enter a more in-depth discussion of his interests at the show, with paidContent noting only that he "seemed less than impressed" with Sony's booth on the expo floor.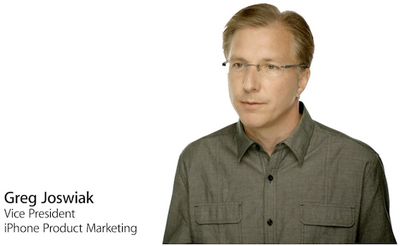 Apple is of course interested in what its competitors are doing, but is likely also interested in following what companies are coming up with in terms of accessories for Apple's own products. Despite Apple's lack of official presence at the show, it remains a popular venue for announcements for products of all types, including those within the Mac- and iOS-related markets.
Joswiak has appeared at several Apple keynote and media events, and has frequently played featured roles in Apple's promotional videos for the company's various iOS devices.
Update: A source has informed Reuters that Apple has over 250 employees registered for CES.
Apple Inc, famous for giving CES the cold shoulder year after year, will field a larger presence at the world's largest trade show than many observers imagine.

More than 250 employees are registered to attend the Consumer Electronics Show in Las Vegas, according to a person familiar with Apple's plans.