Belkin Shows Off Upcoming Thunderbolt Express Dock
Ever since Apple introduced its new Apple Thunderbolt Display, which should begin shipping in the very near future, users have been hoping for a product that offers the same docking station capabilities without the integrated monitor and $999 price tag.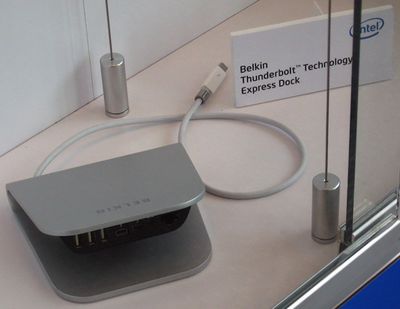 Belkin may soon have an answer for those users, as DailyTech notes that the company is using this week's Intel Developer Forum to show off a new docking station offering essentially the exact same connectivity as found on the back of Apple's new display.
The Belkin Thunderbolt Express Dock features three USB ports, a Thunderbolt port for daisy chaining, a Firewire port, and a GbE port. This is basically the same port setup that's found on the new 27" Apple Thunderbolt Display.

For Apple users looking for expanded port offerings via the Thunderbolt port and don't want to pay $999 for the functionality, the Belkin Thunderbolt Express Dock will come in handy.


Unfortunately, there is no word yet on pricing or a launch date for the docking station, so users will have to wait for Belkin to release more details.