CES 2012: AR Drone 2.0, OCZ External Thunderbolt SSD
A few more interesting items are starting to leak out ahead of CES 2012.
AR Drone 2.0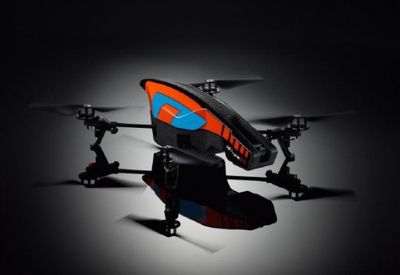 Engadget publishes a press release for Parrot's new AR Drone 2.0 which sports a 720P HD Camera. The original AR Drone was shown off at CES 2010. It's an iPhone-controlled quadricoptor that uses a number of sensors, including a downward facing camera, to help stabilize its flight. You control the flying machine with the use of your iPhone.
The 2.0 upgrade now offers a 1280x720 resolution camera that can be used to record videos as well as new flight control modes to allow for easier handling. Per Gizmodo:
Perhaps best of all, it's now even easier to pilot. Before you had to rely on the camera to know which way the AR.Drone was facing, and then send commands from the drone's perspective. That option is still available for advanced users, but the AR.Drone 2 now senses where you are, so tilting your phone/tablet away from you will send the drone away, and tilting it to your right will make the drone go that way, too. It's incredibly intuitive.
The 2.0 version of the AR Drone will be $299 and available in the 2nd Quarter of 2012. This video shows the original AR Drone in action:
OCZ Thunderbolt SSD


PCPer spotted this new external SSD coming from OCZ. The company had previously offered a similar external USB 3.0 SSD, but this new model brings Thunderbolt support.
According to OCZ, the Thunderbolt-equipped SSD should have transfer rates as high as 750MB/s and "improved latency and highly accurate time synchronization" for professional audio/video work. No timeframe on release, but more details may arrive at next week.