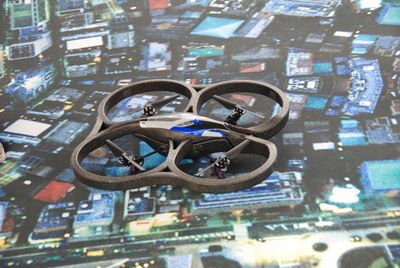 Without a doubt, one of the coolest things introduced at CES 2010 was Parrot's
AR.Drone quadricoptor
- a Wi-Fi controlled battery powered device that can be flown with your iPhone or iPod Touch.
One of the biggest features behind the technology is the sensors and advanced processing behind the device which allow it to practically fly itself. Unlike other remote helicoptors, the AR.Drone uses a combination of downward looking camera, gyroscopes and other sensors to perform stationary flight and also compensate for other flight conditions. The result is a very easy to fly device.
The device is currently controlled using an iPhone/iPod Touch app which communicates through Wi-Fi to the AR.Drone itself. Simply tap on Launch and the AR.Drone takes off and hovers over a stationary spot. On screen controls are easy and effective.
Left/right buttons allow you to rotate 360 degrees in one spot, while up/down buttons control altitude. Pressing on a special button activates tilt-control on the iPhone/iPod Touch itself. This allow you to fly the device by naturally tilting the iPhone itself. Meanwhile, the on screen controls are overlayed with live video coming from the front-facing camera of the Drone itself.
Parrot is also offering a development kit for 3rd party developers to create augmented reality games using their software/hardware. For example, you could do virtual dogfighting between two AR.Drones.