'Red Friday' to Bring Deals for Asian Apple Customers This Friday
Apple has begun informing customers in several of its Asian markets regarding this Friday's one-day shopping event in celebration of the Lunar New Year. Termed "Red Friday", the event is similar to Apple's Black Friday shopping deals in many areas of the world, where the company offers discounts on a number of different items including Macs, iPads, and iPods, as well as accessories.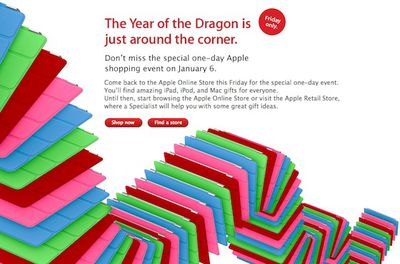 According to 9to5Mac, the Red Friday deals will be offered through Apple's online stores in China, Hong Kong, Taiwan, Singapore, Malaysia, Thailand and the Philippines. The deals will be also available in the company's brick-and-mortar stores in China and Hong Kong.
The event also falls during the same week that Apple celebrated the new year in Japan with its annual Lucky Bag promotion, allowing customers to buy bags containing mystery Apple and third-party products at a discounted price of $430.