iPhone Sales Strong in U.S., U.K. and Australia, Weaker in Much of Europe
Reuters reports on new data from research firm Kantar Worldpanel showing strong sales for the iPhone over the last three months in the United States, United Kingdom, and Australia, driven by the debut iPhone 4S. The company has, however, seen weaker sales in much of continental Europe in the face of economic difficulties and strong competition.
"In Great Britain, the U.S. and Australia, Apple's new iPhone continues to fly off the shelf in the run-up to Christmas. However, this trend is far from universal," said Dominic Sunnebo, global consumer insight director.

Apple's market share in the 12 weeks to end-November rose to 36 percent in the United States from 25 percent a year earlier and in Britain to 31 percent from 21 percent, Kantar said.

However, in France its share slipped to 20 percent from 29 percent and in Germany to 22 percent from 27 percent. Similar drops were seen in Italy and Spain.
The iPhone 4S debuted midway through the reporting period in most of the countries mentioned, although it did launch two weeks later in Italy and Spain. Consumer demand for the iPhone eased in the months leading up to the debut of the iPhone 4S amid high anticipation, but sales obviously surged with the release of the new hardware.
Kantar Worldpanel also reports its data as market share, and with the global smartphone market growing extremely quickly, iPhone sales are likely still rising in countries where Apple's market share has dropped due to the influx of Android-based devices from a variety of manufacturers.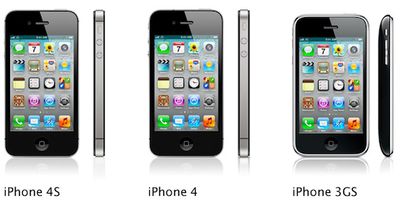 For the holiday quarter, Apple is projecting blockbuster revenue and earnings, with analysts pushing their iPhone estimates for the quarter into the range of 30 million units. That performance would shatter Apple's current record for iPhone sales of just over 20 million units sold during the second calendar quarter of this year.