Apple Reportedly Finalizes $400-500 Million Deal for Anobit
Israeli newspaper Calcalist reports [Google translation] that Apple has finalized its previously-rumored acquisition of flash memory firm Anobit, with company executives having gathered employees to share the news. According to the report, Apple is paying $400-500 million for the Israeli firm.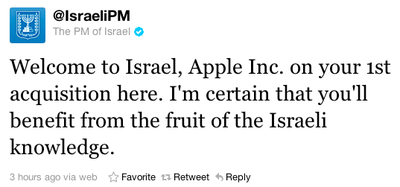 Tweet from Israeli Prime Minister Benjamin Netanyahu welcoming Apple
The article also claims that Apple has confirmed plans to open a
research and development arm
in Israel, the company's first outside of the United States. Apple has reportedly hired Israeli technology executive Aharon Aharon to lead the initiative.
Anobit specializes in signal-processing technique that improve the performance and reliability of flash memory. The company's technology is reportedly already being used in a number of Apple products including the iPhone, iPad, and MacBook Air.