Apple Indeed Replacing Recalled iPod Nano Units with Current-Generation Models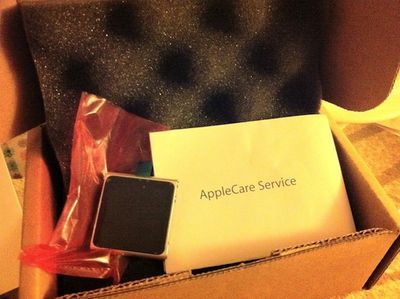 Just hours after we reported that Apple appeared to have begun shipping out current-generation iPod nanos as replacements for recalled first-generation units, users are beginning to report in that they are indeed receiving the current models.
Just received our replacement today - Fedex truck pulled up late in the evening. Inside was our replacement for our 1st gen ipod nano that was sent into Apple 1 month ago.

It's a 6th generation ipod nano, serial number shows that warranty has expired. Not sure if that means that it's a refurbished model or if it's a brand new model and they've deactivated the warranty. It's silver.
Apple had initially been issuing refurbished first-generation models to replace the recalled first-generation units at risk of overheating. But it appears that the company has run out of spare first-generation units and is now supplying users with current-generation units as replacements.
Apple initially launched the iPod nano in 2 GB and 4 GB capacities priced at $199/$249 back in September 2005, adding a $149 1 GB model a few months later. The device utilized a click wheel for navigation and contained a 1.5-inch screen for displaying the standard iPod software interface. Battery life was advertised at 14 hours of music playback and four hours of photo slideshows with music.
The current iPod nano is less than half the size of the original iPod nano and utilizes a 1.5-inch touch screen with software skinned to look like iOS. It is available in 8 GB ($129) and 16 GB ($149) capacities and offers up to 24 hours of music playback.