T-Mobile USA Spectrum Refarming Lets Some iPhone Users Access 3G Data Speeds
While T-Mobile USA has yet to officially offer the iPhone due to an inability to reach an agreement with Apple on the development of new hardware to support T-Mobile's 3G/4G network standards, that hasn't stopped the carrier from quietly targeting iPhone owners with micro-SIM cards and over one million users from taking their unlocked iPhones to the carrier.
Those users have, however, been limited to T-Mobile's slower EDGE network due to the iPhone's incompatibility with the 1700/2100 MHz bands used by the carrier for its faster data networks.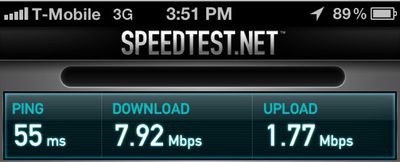 TmoNews now reports, however, that T-Mobile USA has begun refarming some of its spectrum capacity in order to advance its next-generation HSPA+ 84 network, with those changes resulting in the carrier's 3G network moving over to the iPhone-accessible 1900 MHz band in some "pockets" of the country.
First and foremost, the area we're specifically talking about is Nevada as that is where this individual unlocked iPhone owner lives. However, Nevada, parts of Northern California and the Pacific Northwest are also seeing some pockets of 1900MHz spectrum refarming for HSPA+. There are other parts of the country T-Mobile can refarm the 1900MHz spectrum but, the focus is on the Pacific Northwest, Nevada, Utah and California for right now from what we're told. We should emphasize and emphasize greatly that this post does not mean that all of the aforementioned areas are seeing this refarmed spectrum, just pockets inside those areas.
The report notes that T-Mobile iPhone user access to 3G will remain "rare" as the spectrum refarming will only result in the required transition taking place in limited areas around the country. But for those users lucky enough to be in one of those pockets, they are already seeing data speeds well above what the iPhone has until been limited to on the carrier's EDGE network.