'Find My Car Smart' is the First Low Energy Bluetooth App for iPhone 4S
Earlier this year, Apple introduced a new version of Bluetooth in some of their products. This new version of Bluetooth is known as "Bluetooth Low Energy" or Bluetooth 4.0. The Mac mini and MacBook Air were the first to support the new standard with the iPhone 4S quickly following.
The Bluetooth Low Energy specification promises a low-power and low-latency implementation that opens the door to a number of new kinds of Bluetooth-powered devices. The expectation is that low power Bluetooth transmitters/receivers will be able to send data to and from your iPhone without complicated setup. Possible examples included a special watch that could receive notifications, proximity detectors, health monitors and more.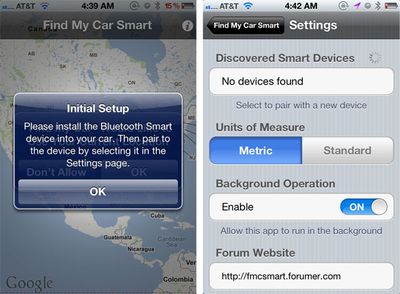 A company called FMC Smart has just launched a Kickstarter for the first Bluetooth Low Energy App and companion module for the iPhone 4S.
'Find My Car Smart' is a Bluetooth 4.0 take on tracking where you had parked your car. While a number of these applications already exist, those require the manual launching and marking of your car. Find My Car Smart works by pairing up against a Bluetooth 4.0 transmitter in your car and automatically tracks its last parked location.
Right now, there are apps on the iPhone that will save the location of my car, but I have to manually launch the app to drop a pin each and every time I have parked my car. Stopping to launch an app when I'm running into work or trying to catch a plane is a complete waste of time and totally annoying. So I developed an app that allows the iPhone 4S to remember the last place I parked and the only time I have to launch the app is after I've lost my car, not before.
The company posts a nice FAQ which details some of the common questions and how the product works.

You need to install a small USB-powered Bluetooth proximity adapter in your car, which pairs with your iPhone. This proximity adapter talks to your iPhone's Find My Car Smart App running in the background. When you leave your car, it remembers this last GPS location automatically. No manual intervention is required. They claim there is only a small decrease in battery life of your iPhone due to the background operations, especially if you are only parking your car a few times a day. More extensive drivers may see more of a battery drain.
Note that as a Kickstarter project, the Bluetooth dongles won't ship until they reach their funding goal, so we haven't been able to test the product nor are we endorsing it. The App Store companion app, however, has been approved by Apple and is already available in the App Store [$0.99]. We have downloaded that app which is shown above in screenshots.
We should expect to see more Low Energy Bluetooth accessories and applications in the future. For now, the iPhone 4S is the only iOS device that supports the new standard.