A Glimpse of Apple's Shopper-Locating Retail Store Software
Late last week, The New York Times took a look at Apple's retail store software for responding to customer requests for assistance, offering a relatively rare public glimpse of one of the company's internal applications.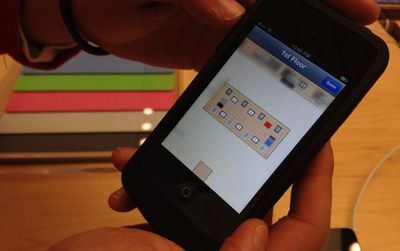 The internal app responds to both assistance requests from the iPads that serve as information displays at products on the sales floor and notifications from customers who have placed advance orders for pickup and then signaled their arrival by launching the Apple Store iOS app.
The iPod Touches of Apple employees show these customer requests and give employees the option to respond to them. The app then shows an illustration of the shopping floor and highlights the customer's location in red.
According to the Apple retail employee who demonstrated the app's capabilities, sixteen customers had used the functionality to pick up orders at the Palo Alto store that day, only a tiny portion of the total customer load for the busy Black Friday shopping day. But Apple has reportedly indicated that it eventually expects a majority of its retail store customers to eventually take advantage of the new services such as in-store pickup and self-checkout using the company's iOS app.
This feature allows shoppers to ask for assistance when they feel comfortable doing so, unlike in other retail stores where customers are hounded by employees eager to make a sale, [retail store employee Diego] Aguirre said.

"It's more toward customer experience," Mr. Aguirre said. "We don't want to feel like we're hassling our customers to shop. We want them to feel at home."
Apple has been working hard to build out capacity to meet customer load at its retail stores, which rank among the most profitable retail sales locations in the world. In recent years the company has been putting a significant focus on building larger, more iconic stores and also building out its international retail presence. But with the retail chain's oldest stores now approaching ten years old, the company is also looking to replace or renovate a number of these stores in order to keep up with the company's continued growth in popularity.