VMWare Fusion Now Allows Virtualization of Mac OS X Leopard and Snow Leopard [Updated]
With the release of OS X Lion, Apple updated their licensing agreement to allow the virtualization of Mac OS X under programs such as VMWare Fusion and Parallels. This functionality allows you to deploy different sandboxed installations of OS X on a single machine. The change, however, appeared to only apply to OS X Lion and not to previous non-server versions of Mac OS X such as Leopard and Snow Leopard.
So, when the Lion optimized version of VMWare Fusion was released, it allowed users to run additional virtualized copies of OS X Lion, but continued to prohibit running older versions of Mac OS X under Lion.
Those rules seem to have changed a bit in the latest version of VMWare 4.1 which was released on Friday. As first noted by Macworld, VMWare's Fusion no longer strictly prohibits the virtualization of client editions of Mac OS X Leopard and Snow Leopard.
But one big change with this update isn't documented anywhere: The software has been modified so that it will run the non-server versions of Snow Leopard (Mac OS X 10.6) and Leopard (Mac OS X 10.5). Previously, VMware Fusion supported virtual Macs running Lion, Lion Server, Snow Leopard Server, and Leopard Server.
The change in support, however, is a bit subtle. Instead of prohibiting the use of non-server Snow Leopard and Leopard, VMWare prompts the user to verify that they are licensed to run such copies: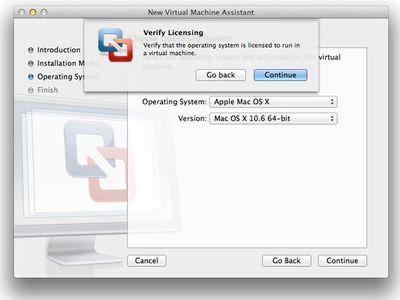 Macworld's Jason Snell confirmed that simply agreeing allowed him to to install and run non-server Mac OS X Snow Leopard and Leopard under Lion. Now, whether end users actually have such a license is less certain. When questioned by Macworld, Apple simply reiterated that virtualization is allowed for Mac OS X Lion, Snow Leopard Server and Leopard Server.
The main advantage for end users of such a configuration is the ability to run older PowerPC-based applications on demand. Apple removed Rosetta PowerPC emulation support in Mac OS X Lion, stranding some users who depend on legacy PowerPC applications. By running Snow Leopard in a virtual machine under OS X Lion, those users could continue to run their PowerPC applications on occasion while otherwise using OS X Lion.
Update: VMware has noted that the Snow Leopard and Leopard client virtualization was made possible by an omission of a server edition check from the new Fusion 4.1 software. WMware will be releasing an update to address the issue.