OS X Lion Allows Running Multiple Copies on the Same Machine (Virtualization)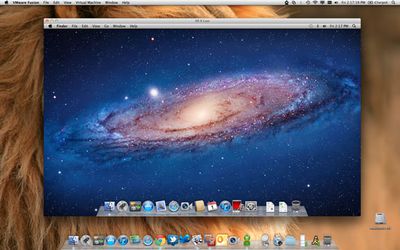 For the first time, Apple is allowing owners of OS X (client version) to run multiple virtual copies on the same machine. Previously, Apple extended this ability to Mac OS X Server only. Running separate instances of Mac OS X should be possible under virtualization solutions such as VMware Fusion and Parallels. This functionality allows you to deploy different sandboxed installations of OS X, typically for enterprise purposes. As reported in 2007, Apple first extended this capability in Mac OS X Server 10.5:
[The 2007 Mac OS X 10.5 Server EULA] permits OS X Server to run in a virtual machine (VM) as long as each VM is stocked with a different license and the physical system is Apple-made. The new rules don't apply to the client edition of Apple's operating system, which is still barred from being virtualized.
The Golden Master version of OS X Lion (10.7) just released to developers includes the final end-user licensing agreement (EULA) which reveals that users can run up to two additional instances of OS X Lion on their same machine without a need for extra licenses. From the 10.7 EULA:
(iii) to install, use and run up to two (2) additional copies or instances of the Apple Software within virtual operating system environments on each Mac Computer you own or control that is already running the Apple Software.
The shift in policy likely reflects the blurred distinction between OS X Server and OS X Client starting with Lion. OS X Server will be sold as an App Store add-on pack for OS X Lion.