Android Tops 50% Share of Smartphone Sales, But Apple Still Dominating Profits
Research firm Gartner today released its results of worldwide mobile phone sales for the third quarter of 2011, once again revealing how delayed purchases ahead of the iPhone 4S resulted in a dip in unit sales and market share for Apple. According to the report, Apple's share of the total mobile phone market came in at 3.9% for the quarter, down from 4.6% in the previous quarter. The performance was strong enough, however, to maintain fourth place in the rankings behind Nokia, Samsung, and LG.
Apple shipped 17 million iPhones, an annual increase of 21 percent, but down nearly 3 million units from the second quarter of 2011 because of Apple's new device announcement in October. Gartner believes Apple will bounce back in the fourth quarter because of its strongest ever preorders for the iPhone 4S in the first weekend after its announcement. Markets such as Brazil, Mexico, Russia and China are becoming more important to Apple, representing 16 percent of overall sales and showing that the iPhone has a place in emerging markets, especially now that the 3GS and 4 have received price cuts.
Looking at the narrower smartphone market, which represented 26% of mobile phone sales during the quarter, iOS slipped from an 18.2% share in the second quarter to 15.0% in the third quarter, trailing market leader Android and Nokia's soon-to-be-defunct Symbian platforms. Notably, Android leapt to grab 52.5% of the smartphone market during the quarter, more than doubling year-over-year and up significantly from 43.4% just last quarter.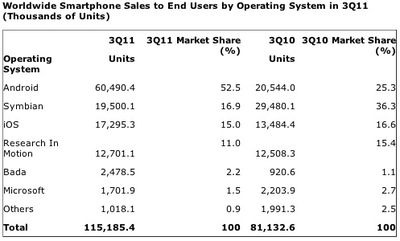 But even as Android surges to take more than half of the worldwide smartphone market by units, Apple continues to increase its share of mobile phone industry profits, with several studies showing that Apple currently takes in more than half of the industry's profits.


In another stark example of Apple's rise to dominance in profit share, Fortune yesterday published several charts from a new report from analysts at Oppenheimer & Co. The graphs show that while Apple's share of smartphone unit sales has somewhat stagnated over the past couple of years, its share of smartphone profits has soared to an estimated 65% during 2011. That trend is predicted to continue in 2012, with Apple pushing toward 70% profit share.