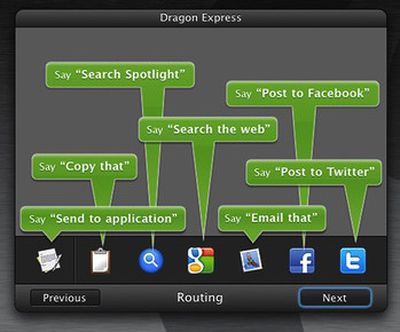 Nuance Communications, which provides the speech recognition technology included in Siri on the iPhone 4S, has announced the Mac App Store launch of Dragon Express, a new application that offers some of the same speech recognition and system control features found in the company's more expensive Dragon Dictate software.
Dragon Express is an easy and fun speech recognition utility that introduces OS X Lion customers to voice recognition for the Mac. Put your words to work without the hassle of typing. Just speak and amazingly accurate results instantly appear in the Dragon Express window. You can dictate anything – even words that wouldn't be found in any dictionary – since Dragon Express is customized to recognize your voice and the words you use.
Dragon Express exists as a menu bar item, allowing users easy access to the dictation window. After speaking the desired input via integrated microphone or a USB headset, the transcribed text is then transmitted to the destination application.
Dragon Express is currently being offered at an introductory price of $49.99.