Adobe Brings Photoshop Elements 10 and Premiere Elements 10 Editors to Mac App Store
Back in July, Adobe entered the Mac App Store for the first time with the release of Adobe Photoshop Elements 9 Editor, a slightly scaled-down version of the company's consumer image editing application. When the company released Photoshop Elements 10 in boxed form in mid-September, we asked Adobe about a Mac App Store release for the new version and were told that it was in the works but under a different timeline given that it is a separate application.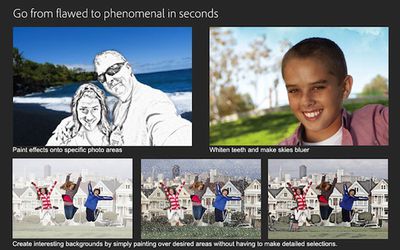 Adobe Photoshop Elements 10 Editor
Adobe has now completed work on not only the Mac App Store version of
Photoshop Elements 10 Editor
but also
Premiere Elements 10 Editor
, which are now available in the Mac App Store for $79.99 each.

Adobe Premiere Elements 10 Editor
Like the earlier Photoshop Elements release for the Mac App Store, the new releases do not include the Elements Organizer functionality found in their non-Mac App Store counterparts, and do not support case-sensitive HFS+ (HFSX) volumes. Premiere Elements 10 Editor also does not support the SmartSound capabilities found in the full version.
Current users of Photoshop Elements 9 Editor from the Mac App Store should note that the new Version 10 is a separate application and thus not available as a free upgrade.