Over 10% of U.S. Mobile Phone Users Now on an iPhone
comScore today released the results of its latest survey of mobile phone usage in the United States, noting that Apple has reached a milestone in surpassing a 10% share of the U.S. mobile phone market. As has been the recent trend, Apple again led the major phone manufacturers in growth between the three-month period ending in June and the period ending in September, growing by 1.3 percentage point to hit 10.2% of the U.S. market.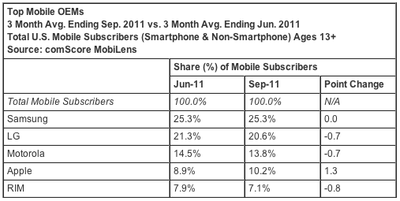 Narrowing down to smartphones, Apple's iOS took 27.4% of the market, up 0.8 percentage points since the previous three-month period but trailing Android's 44.8% share and 4.6 percentage point growth. Apple stood at 9.8% of the overall mobile phone market and 27.3% of the smartphone market in last month's release of the firm's rolling three-month data sets.


comScore's data tracks installed user base rather than new handset sales, making it more reflective of real-world usage but slower to respond to shifting market trends than some other studies. With today's released data covering the period of July through September, it is also important to note that it does not include any surge from the iPhone 4S launch, which took place in mid-October.