Apple Misses iTunes Match Launch Target as iTunes 10.5.1 Developer Beta Expires
At its "Let's Talk iPhone" media event early last month, Apple announced that it would be launching its iTunes Match service in the United States at the "end of October". That launch date was itself apparently a slight delay from Apple's original plans given that support for the feature had been built into developer builds of iTunes 10.5, which was released in mid-October to support iOS 5 and iCloud.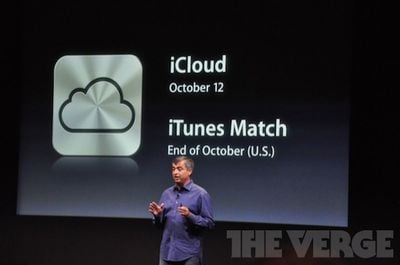 Eddy Cue announces "end of October" launch for iTunes Match (Source: This is my next / The Verge)
But with Apple apparently pushing back the iTunes Match launch slightly, the feature was removed from the public release of iTunes 10.5 and
moved
to a new iTunes 10.5.1 that was released for developer testing.
Sources have indicated that Apple is close to a launch of iTunes Match, with retail store staff having been briefed on the service in preparation for its debut. But with the calendar now having turned to November, Apple has missed its public launch target for iTunes Match. The company has not yet commented on the status of iTunes Match, leaving some questions about its plans even though a launch still seems near.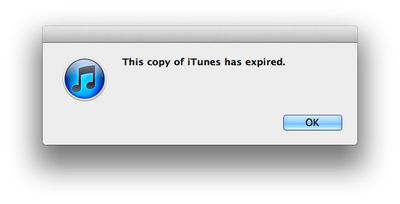 iTunes 10.5.1 beta expiration notice (Source: @dmoren)
One group that may have been caught off-guard by the delayed iTunes Match launch is Apple's developers, who have been testing the service for a number of months. Apple has repeatedly
wiped users' iTunes Match libraries
during the beta testing process, with the most recent wipe occurring last Thursday.
But those developers who have continued testing the service are now discovering that their iTunes 10.5.1 betas have expired, leaving them unable to launch the application as of today with no public launch and no new beta release. Apple routinely advises developers to only install beta builds of its software on machines dedicated to development, but some users undoubtedly have installed iTunes 10.5.1 on their primary machines and may now be experiencing difficulties.