Google TV Take Two Launches Next Week with Streamlined Interface, Android Apps
Back in May 2010, Google announced plans to launch "Google TV", a software offering available either in a set-top box or built into TV sets and designed to integrate television with the Web. Google TV officially launched in October of that year, but has so far failed to catch on with consumers.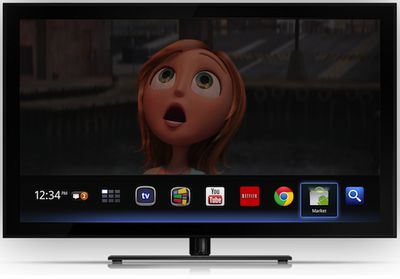 Addressing the platform's shortcomings, Google today announced that early next week it will launch a major software update intended to significantly improve the functionality of the Google TV software. Among the most notable improvements are a streamlined interface with improved searching capabilities and compatibility with apps through the Android Market.
The interface is now much simpler. The new customizable home screen gets you to your favorite content quickly. And within "all apps" you can see all of your shortcuts, similar to your Android phone or tablet.

...

We are opening up the TV to the creativity of content creators large and small through Android Market. Android developers can now bring existing mobile apps or entirely new ones to TV. Initially, the number of apps won't be large – apps requiring a touch screen, GPS, or telephony won't show up – but 50 developers have seeded the Market with cool and useful apps for the TV. We're excited to see the number of apps grow.
The update will be rolling out to Sony devices early next week, with Logitech's set-top boxes set to receive the update shortly after.


Google's movements in the television space have been closely watched by Apple observers, in part due to Apple's own efforts in the market with the Apple TV, which was relaunched late last year as a set-top box for streaming content. Apple has also been said to be working on its own connected television set, with the most recent report arriving yesterday and indicating that Apple is seeking to launch a Siri-enabled TV by 2013.