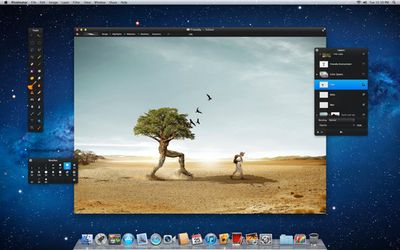 Version 2.0 of popular image editing application Pixelmator goes live tomorrow on the Mac App Store. The app was one of the early success stories on the Mac App Store, generating more than $1 million in revenue in the first 20 days.
The new version of Pixelmator includes support for a number of Lion features, including Full Screen, Auto Save, and Versions. It also includes an advanced healing tool, similar to Adobe Photoshop's Content Aware-Fill technology, moving an advanced feature into a brand new price point. The Loop has some additional screenshots.
Pixelmator 2.0 will be initially priced at $29.99, though the regular price will be $59.99. The Pixelmator team told us they hadn't decided exactly when the price will rise. Version 2.0 will be available on the Mac App Store tomorrow.
Version 1.6 of Pixelmator is available for $29.99 on the Mac App Store. Users who have purchased Pixelmator from the Mac App Store will receive the version 2.0 upgrade for free.
Update: Pixelmator 2.0 is now available in the Mac App Store for $29.99.