Apple Television Set Prototypes Reportedly 'In the Works'
One of the major revelations pulled out of the new authorized Steve Jobs biography has been Jobs' disclosure that he "finally cracked" the problems standing in the way of an Apple television set.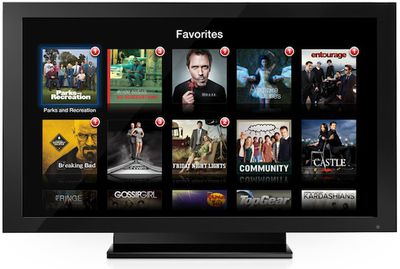 Rumors of an Apple-branded television have been circulating for years, but have been gaining steam following the release of the iPad as observers look to Apple's "next big thing". One of the strongest proponents of an Apple television set has been Piper Jaffray analyst Gene Munster, who has issued a number of reports about Apple's prospect for such a device.
With Jobs' comments once again fanning the flames of speculation regarding an Apple television, Munster has weighed in (via Fortune) to claim that all evidence is pointing to a launch as soon as next year. Among the newly presented evidence from Munster is a claim that prototypes of the Apple television set are now "in the works".
- Based on Jan-11 meetings in Asia (not with component suppliers), we believe Apple is investing in manufacturing facilities and securing supply for LCD displays. These displays could range from 3.5" mobile displays to 50" television displays.

- More recently, in Sept-11 we met with a contact close to an Asian component supplier who indicated that prototypes of an Apple television are in the works.
Munster also points to several patents and patent applications filed by Apple addressing the company's work into television-related technologies as further evidence of the company's interest. And while Apple routinely files for patents on technologies that never appear in its products, it is clear that the company has been thinking about how it could make a bigger impact in the television-related market if it elected to go down that route.
While any specifications on an Apple TV remain unknown beyond Jobs' suggestion that it would integrate iCloud presumably with iTunes Store video content, Munster believes that Apple could sell 1.4 million television sets at an average selling price of $1800 in 2012, ramping up to 4.3 million units by 2014 as costs drop to an average selling price of $1400. Munster's estimates, which are of course essentially guesses informed by current market trends, put Apple's share of the connected TV market at 3% in 2014, with the company bringing in $6 billion in revenue from the segment.