iPhone 4 Noise Cancellation Delivered by Chip From Audience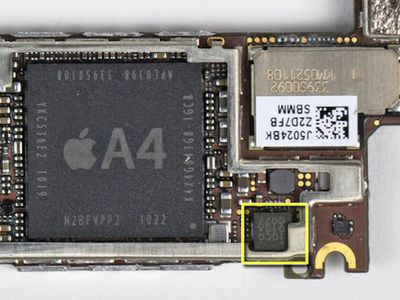 White-labelled Audience audio processor highlighted in yellow
iFixit reports
that the chip responsible for handling the noise cancellation capabilities of the iPhone 4 has finally been identified, with chip teardown firm Chipworks pegging it has having come from
Audience
, the producer of high-end voice processors found in such devices as the Nexus One. The identification was made more difficult by Apple's move to have the chip "white-labelled" by Audience to remove any specific identifying marks on the outside of the chip package. From iFixit's report:
There was one small, 3mm x 3mm chip that we weren't able to identify during our teardown. It was white-labelled, meaning Apple asked the manufacturer to remove their branding from the package to make it difficult for folks like us to identify. The markings on the chip '10C0 01S8 0077' didn't match any existing part in our database, and we didn't pursue it further. This part turned up again this February when we got our hands on the Verizon (CDMA) iPhone 4.
With Chipworks finally performing a decapping procedure to analyze the internal structure of the chip in question, telltale signs including an "Audience" die marking buried inside the chip confirmed that the company is indeed responsible for the audio signal processor in the iPhone 4.

"Audience" die marking discovered inside audio processor
The confirmation reveals yet another high-profile design win for Audience, which has seen its chips incorporated into smartphones from Samsung, HTC, and other manufacturers and has established itself as offering the top-performing noise cancellation technology in the industry.