Lines Begin Forming at Apple Retail Stores Ahead of iPhone 4S Launch
While a few committed individuals have been camping out for the iPhone 4S for some time now, others are now beginning to filter toward their local Apple retail stores in their attempts to secure one of the new models first thing tomorrow morning.
We've yet to hear much from Australia, where stores in the eastern part of the country will be the first to open for iPhone 4S sales just a few hours from now. But lines are already long in Japan, another early launch market for the device, with Guillaume Erard
reporting
that there were over 100 people in line at Apple's
Shibuya retail store
in Tokyo a full 11 hours before launch time.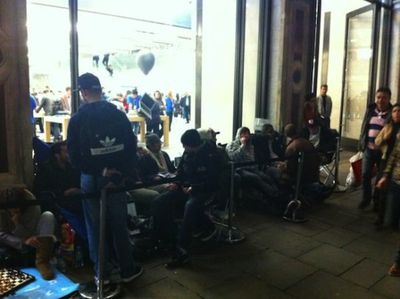 iPhone 4S line at London's Regent Street retail store (Source: @tgrande)
Some of Apple's flagship stores in London are also beginning to see substantial lines forming, as evidenced by photos from Regent Street and Covent Garden stores.

iPhone 4S line at London's Covent Garden retail store (Thanks, Mike!)
Things still appear to be relatively quiet in the United States and Canada nearly 17 hours before the first launches, as we've been receiving scattered reports of lines beginning to form but with only a handful of people encamped at most of the stores from which we've received reports.
MacRumors forum members looking to organize meetups for the iPhone 4S launch are getting together in our dedicated forum.
Update: MacRecord noted earlier today that there were over 100 people (and now up to 150) in line at the Opéra retail store in Paris.


Update 2: Apple co-founder Steve Wozniak is reportedly the first and only person in line so far at the Los Gatos retail store in California.