iPad Surpasses iPhone in U.S. Internet Traffic, Nabs 97% Share of Tablet Traffic
Research firm comScore today announced the results of its latest study of digital media consumption in the United States, perhaps unsurprisingly finding that the iPad has continued to dominate the tablet industry and has even quickly overcome the iPhone's headstart to lead it in total traffic. Among iOS devices, the iPad is now responsible for more U.S. Internet traffic than the iPhone, taking the title by a margin of 46.8% to 42.6%.
Perhaps most notably, the iPad continues to dominate the U.S. tablet industry even as numerous high-profile competitors have introduced (and in some cases already discontinued) their own tablet products to take on the iPad. According to comScore, the iPad accounted for 97.2% of U.S. Internet traffic, as measured by browser-basd page views, from tablet devices over the June-August period.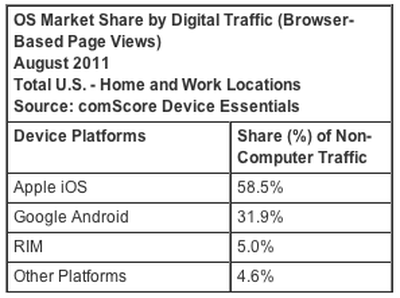 Looking at the broader tablet and smartphone market, iOS as a whole represented 43.1% of the installed user base for connected devices in the United States over the study period, with Android placing second at 34.1%. But in looking at traffic from those devices as a gauge for how much they are being used, iOS takes a commanding 58.5% of the market while Android dips to 31.9%.
Apple fans have frequently pointed to the company's strong performance with the iPad and iPod touch as data that should be included when comparing the relative adoption of iOS versus Android. And given that Android has yet to take off in the tablet and non-phone connected device markets, iOS continues to hold a sizable lead in overall platform comparisons despite Android's rapid ascent in the smartphone portion of the market.