Comparison of iPhone 4S Service Plans for AT&T, Sprint, and Verizon
PC Mag has put together a nice comparison of voice and data service plan options for the iPhone 4S on the three U.S. carriers that will be offering the device: AT&T, Sprint, and Verizon.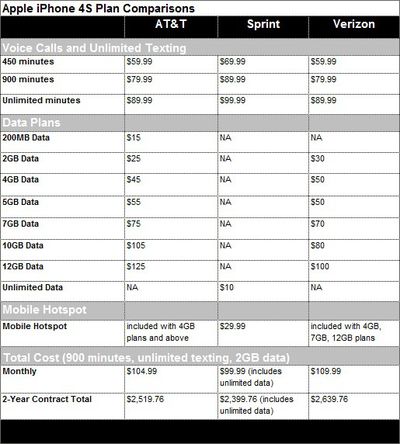 At the top, the chart shows pricing for the three standard voice tiers used by carriers (450 minutes, 900 minutes, and unlimited), all paired with unlimited texting. The second section compares pricing for various buckets of data usage, and while different carriers have different cutoff points, the chart allows users to compare pricing at any given usage level. Sprint of course is offering unlimited data for the iPhone, requiring only a $10 "premium data" surcharge on top of the basic "Simply Everything" charge of $99.99 per month.
Some users may also be interested in mobile hotspot offerings, which allow them to use their iPhones as access points to 3G data for Wi-Fi enabled devices. Mobile hotspot functionality is included in higher-level data packages (4 GB and above) from AT&T and Verizon, while it is a separate $29.99 per month add-on for Sprint's unlimited data service.
Users looking to get the best deal on service for the iPhone 4S will need to gauge their data needs ahead of time, as different carriers offer strengths in different areas. High data usage customers may find Sprint appealing, as it is the only carrier offering unlimited data. Sprint's pricing makes it the best deal all the way down to only 2 GB of usage, but low-use customers might be interested in AT&T's $15/month data package offering 200 MB of data as a cheaper option.
As PC Mag notes, users will also need to weigh the pros and cons of each carrier's network, and users should also be aware that Apple's new iCloud service may result in them using more data than they do currently, depending on how much data they move up and down through the service.
Pre-orders for the iPhone 4S will begin at 12:01 AM Pacific time tonight/tomorrow morning.