Apple's Launches 2 New Apps: "Find My Friends" and "Cards"
At the iPhone 4S launch event today, Apple launched two new apps: Find My Friends, and Cards.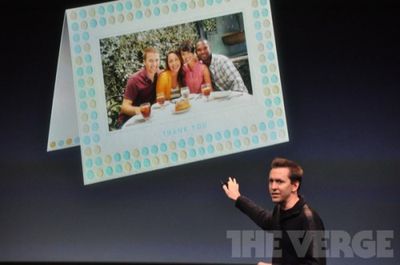 Cards is an iOS version of the greeting card-maker built-in to iPhoto, but with a twist -- instead of printing and shipping cards to the user, who then has to buy stamps, address and mail the cards -- Apple takes care of printing, mailing, and postage and sends the card directly to the recipient, with a push notification going to the senders iPhone upon delivery.
As iOS SVP Scott Forstall explains, "you create the card on your iPhone, and we'll do the rest."
Users will take pictures, design the card (choosing from 21 different designs), customize the greeting and Apple takes care of the rest. Cards will cost $2.99 each when mailed within the US, $4.99 internationally. The Cards app itself will be a free download, launching October 12th, with iOS 5.


Apple's "Find My Friends" feature was hinted at earlier this year, and has now arrived as an App to locate (with permission) users' friends and family with iOS devices on a map, much like Google Latitude.
Users can easily set privacy controls including only sharing location during certain times of day and more. "At the end of the day, location sharing stops automatically. Easily locate friends and family, temp sharing options, simple privacy controls…"
Find My Friends is free with iOS 5 and will launch October 12.
Cards image courtesy This Is My Next
Find My Friends image courtesy GDGT