'iPhone 4S' 16GB, 32GB, 64GB Listings at Vodafone Germany
Over the past few days, there have been a number of reports of next generation iPhone models appear in various inventories. Both Radio Shack and Cincinnati Bell websites have listed "iPhone 5" entries, fueling speculation that Apple might actually release a phone called "iPhone 5" at Tuesday's event.
We said in our breakdown of possible outcomes that we generally don't put too much faith in these inventory listings. The entries are believed to be placeholders based on the same rumors that we are all reading.
But here's a new finding via iPhone-Ticker.de that is slightly more interesting. German mobile carrier Vodafone.de is now listing new iPhones on their website that line up to circulating rumors quite nicely.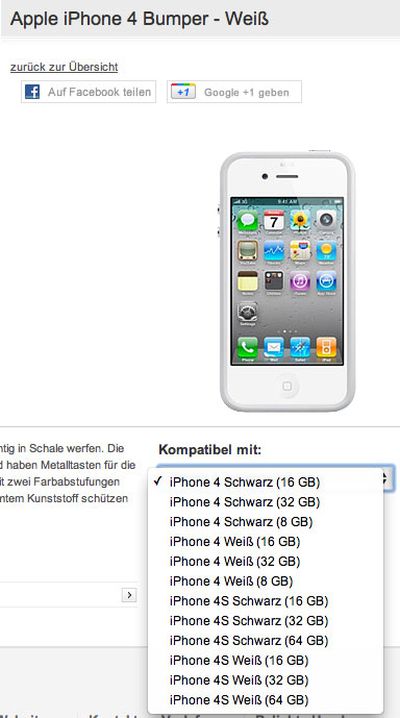 In several of their accessory pages, Vodafone.de now lists several new iPhone models under compatibility requirements. The new models include (note weiß and schwarz translate to white and black):
- iPhone 4 Black (8GB)
- iPhone 4 White (8GB)
- iPhone 4S White (16GB, 32GB, 64GB)
- iPhone 4S Black (16GB, 32GB, 64GB)
This particular composited screenshot (above) comes from the iPhone 4 Bumper Vodafone shop page which claims compatibility with all these devices. But even the Elgato TV receiver lists the same models with no "iPhone 5" in sight.
While there's still a chance that these could represent best-guess placeholder entries, they line up nicely with our current expectations: a lower cost 8GB iPhone 4, and three iPhone 4S models. Additionally, Vodafone is an Apple partner and sells the iPhone 4 in Germany, and we know Apple has also had inventory listings that line up with this same rough configurations.
Apple is hosting a media event on October 4th and is expected to announce the next iPhone.