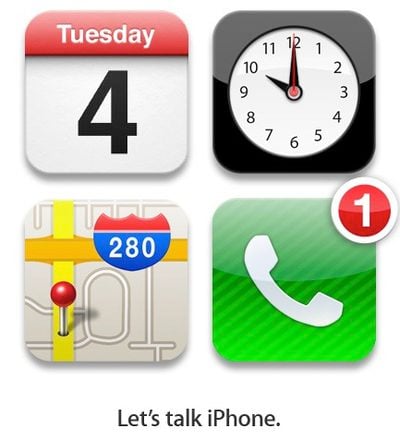 After following some of the comment threads on the latest stories about the new iPhones, it seems clear there's a lot of confusion about what is coming on Tuesday.
Here's a breakdown of all the current rumors about what could possibly be coming out on October 4th.
iPhone 4 (N90A)
- The iPhone 4 but with reduced storage capacity (8GB)
- Otherwise identical to iPhone 4
- Will replace the iPhone 3GS which presently sells for $49 with contract.
iPhone 4S (N94)
- iPhone 4 case design (3.5" Screen), but improved internals
- CDMA and GSM in one phone, "World Phone"
- HSPA+ (at least 14.4mbps)
- 1GB RAM
- A5 Processor
- SGX 543MP2 GPU (Same as iPad 2)
- Assistant Voice Recognition
iPhone 5 (N??)
- Tapered case design (mockup)
- ~4" Screen
- Presumably same specs as iPhone 4S (see above)
The source of much of the confusion is the natural use of the term "iPhone 5" to simply refer to the next-generation iPhone that Apple will be launching on October 4th.
Several retailers and carriers are beginning to list "iPhone 5" on their websites, which some readers take as evidence for a redesigned iPhone. Those companies' use of the term "iPhone 5" is not referring to any particular design (tapered or otherwise) but are simply placeholders. They are simply using the term "iPhone 5" as a naturally descriptive term to mean "the iPhone that comes after the iPhone 4".
One reader confirms these suspicions:
Its a place holder in their logistics and inventory system. Friend of mine works for a large international carrier in managerial level and has no idea what's coming. They only know it's the new iPhone but that's the far as it goes. These are the same guys who are responsible for day to day operations so that explains why you have something like iPhone 5 in the inventory lists as a placeholder. You have to be a top executive have real knowledge of future iPhones and those guys have nothing to do with these lists.
The most recent rumors suggest that the iPhone 4 will become the low end iPhone, while the "iPhone 4S" will become the top of the line. There has been no evidence that the tapered iPhone 5 design is actually in production.