iPhone 4S ("N94") to Come in 16GB, 32GB, and 64GB Sizes?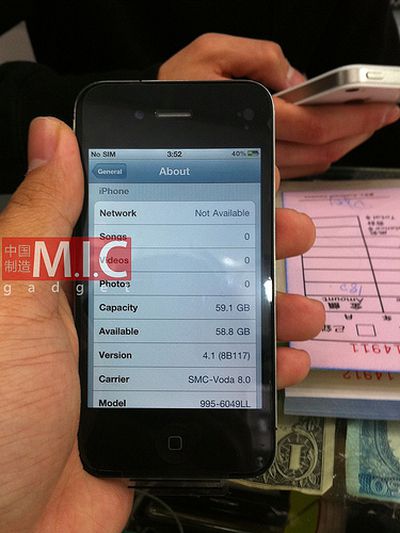 According to 9to5Mac source Mr. X, the upcoming "N94" next generation iPhone is being stocked by Apple in 3 different capacities. The iPhone 4 currently comes in only two capacities: 16GB and 32GB. They are interpreting this to mean that the next generation iPhone will come in 16GB, 32GB and 64GB capacities. However, they can't be certain. The three different sizes could conceivably be 8GB, 16GB, and 32GB, or some other combination altogether. All that is known is that the upcoming "N94" model will be available in three different capacities.
However, this isn't the first time we've heard of a 64GB iPhone. In March, a prototype 64GB iPhone model began making the rounds in China.
The owner of this engineered prototype told us that he got it from a source who has a small quantity of these prototypes. They are definitely leaked from Foxconn's factory in Shenzhen. What's more, according to the owner, he believes that the next iPhone will bring 64GB storage capacity to users.
The circulating model at the time was an iPhone 4 design with 64GB of internal storage, revealing that Apple had been working on such a model at some point.
Apple will be introducing the next iPhone on October 4th during a media event held on Apple's campus. So far, there has been evidence of a revised iPhone 4 model, rumored to be of 8GB capacity, and this N94 next generation iPhone which will be coming in 3 sizes. The N94 carries the same overall look as the iPhone 4, but is believed to incorporate a much faster processor (A5) and better camera (8 megapixel).