With Apple's iPhone media event set for tomorrow, many have been wondering whether Steve Jobs will be in attendance given concerns over his health and this being the first public event for the company since Tim Cook officially became CEO. Beyond mere speculation, the uncertainty over Jobs' potential attendance is even reflected among those who have apparently been hearing word from sources who might be in a position to know of Jobs' plans.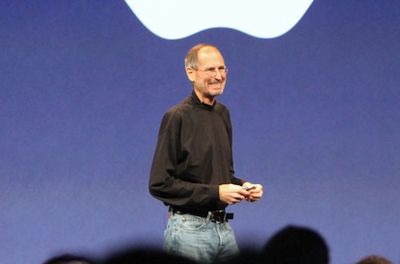 Reuters suggests, without giving a solid sourcing for the claim, that Jobs is indeed "expected" to be in attendance tomorrow.
The Apple co-founder, a pancreatic cancer survivor who stepped down in August after his third medical leave, is expected to make an appearance, though a no-show by the Apple co-founder will not be a major disappointment.
Reuters also vaguely claims that the next-generation iPhone is "widely expected" to have a larger screen, apparently rehashing reports from sources it cited earlier this year. Recent parts leaks have, however, revealed the N94 iPhone 4S to be essentially identical to the iPhone 4 form factor, and essentially no concrete evidence of a redesigned iPhone 5 has surfaced beyond third-party case designs.
As for Steve Jobs, Robert Scoble takes the opposite position from Reuters, claiming that he is hearing from his sources that Jobs will not be in attendance.
I'm hearing that Steve Jobs won't be at tomorrow's press event. He's just not feeling well enough to come out in public, I hear (and yes, that makes me sad, the industry will really miss him and they will see again tomorrow why). I keep wishing that these continued rumors are wrong, but know in my head that they probably are right. That said, tomorrow will be ALL about Steve Jobs even though he probably won't be mentioned much, beyond something like "Steve is watching today's keynote from the comfort of his home and he sends his best wishes to all of you."
Tim Cook is expected to lead tomorrow's presentation, with significant assistance from other key executives such as Phil Schiller and Scott Forstall.