64GB iPhone 4 Prototype Leaked from Foxconn [Update]
Earlier today photos of a
possible prototype 64GB iPhone
were posted to
M.I.C gadget
. At the time, the site wasn't sure if the prototype was real or if it was a clever counterfeit.
M.I.C gadget has since
gotten access to the device and believes it to be real:
Apparently, this 64GB iPhone 4 is not for sale in grey markets of Hong Kong. The owner of this engineered prototype told us that he got it from a source who has a small quantity of these prototypes. They are definitely leaked from Foxconn's factory in Shenzhen. What's more, according to the owner, he believes that the next iPhone will bring 64GB storage capacity to users. Well, we think Apple is planning to update the iPhone 4 with small upgrades, at least featuring a new 64GB model.
The device shares many physical characteristics of the "lost" Gizmodo iPhone 4, which was also labeled with "XXGB" on the back. Other shared findings include no "+" or "-" markings on the volume switches and no silver ring around the rear camera lens.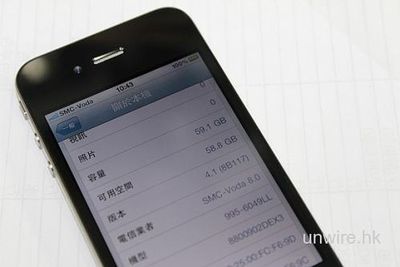 This engineering prototype reportedly leaked directly from Apple's manufacturing partner, Foxconn. Apple presently ships only 16GB and 32GB models of the iPhone 4, and has never shipped a 64GB model. The device owner seems to think Apple may introduce a 64GB model for the next iPhone. Apple, of course, may have made any number of different engineering prototypes of the iPhone 4, so it may or may not indicate their future plans for mass production.
Update: The serial number indicates that this particular prototype was produced in early 2010. So, while Apple may be working on a 64GB iPhone in the future, this particular one was an old prototype that pre-dated the launch of the iPhone 4.