Apple Quietly Releases Fix for Flickering on 24-Inch LED Cinema Display over Thunderbolt [Update: Pulled]
Ever since Apple released its first Thunderbolt-equipped machines earlier this year, reports have been surfacing from a number of users complaining about flickering issues on company's 24-inch LED Apple Cinema Display when used with the new Thunderbolt-equipped machines.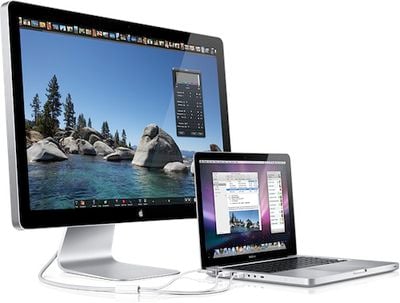 Apple has apparently quietly released a firmware fix for the issue, although the update has not been publicly announced and its existence appears to have only been revealed to a small number of customers who have escalated their issues through Apple's support systems.
A link (.dmg download) to the firmware update was posted to Apple's discussion forums earlier today, and a number of users who have applied the update have reported at least initial success with addressing the flickering issues. Users report having to reboot their systems and power cycle their displays in order for the displays to function properly after applying the update.
From the description included in the download file:
The 24-inch LED Cinema Display Firmware Update addresses an issue that may cause intermittent display flickering. This firmware will only install on the Apple 24-inch LED Cinema Display when it is connected to a Thunderbolt-enabled Mac.

IMPORTANT:
This firmware update may not resolve the flickering issue if a Mini DisplayPort extender cable is used.

NOTE:
Some USB and FireWire devices may prevent firmware updates from installing correctly; disconnect non-essential devices and use only an Apple keyboard and mouse to apply the update.
Full instructions for installing the firmware update are also included in the documentation.
It is unclear why Apple has yet to publicly issue the firmware update for all 24-inch Apple Cinema Display users, and thus users should exercise caution in deciding whether to apply the update and prefer to check with Apple support regarding their specific issues.
Apple introduced the 24-inch LED Cinema Display in October 2008 and officially discontinued the model in July 2010 when Apple consolidated its display offerings with the 27-inch LED Cinema Display as its sole offering. Apple did, however, continue to sell off its remaining stock of 24-inch displays for a number of weeks after the official discontinuation.
Update: Apple appears to have pulled the firmware update without explanation.