Al Gore Mentions 'New iPhones' for Next Month
According to The Next Web, Apple board member Al Gore today claimed that Apple will be releasing "new iPhones" next month, making the first such public comment on Apple's next-generation iPhone release plans from anyone closely connected to the company.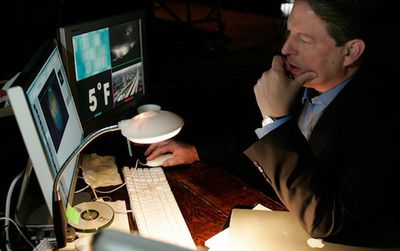 Gore's use of the plural "iPhones" is naturally sparking speculation that Apple may indeed be planning to launch both a redesigned iPhone 5 and a more modest "iPhone 4S" based on the current iPhone 4 design.
We've been informed by Toby Shapshak, the editor of Stuff Magazine in South Africa that is attending the conference, that his quote was specifically: "Not to mention the new iPhones coming out next month. That was a plug."

Shapshak says that the statement was definitely plural, although it wasn't clear whether that meant two different models, as the statement was not clarified in any way by Gore.
It's not entirely clear just how familiar Gore would be with exact details of the next iPhone, as most boards of directors are more concerned with broader issues such as establishing corporate policy frameworks and objectives, monitoring financial performance, and representing shareholder interests. But Gore certainly could have knowledge of Apple's general timeframe for such a major product launch.
Meanwhile, Electronista and Reuters report that Sprint CEO Dan Hesse danced around the topic of the iPhone at a Goldman Sachs investor conference today, noting that the company's financial guidance does not take the device into account and would have to be adjusted if the carrier were to begin offering the iPhone.
Hesse also cited the iPhone as the number one reason customers have left Sprint, noting that the carrier has added subscribers over the past two quarters in spite of its disadvantage against iPhone-offering rivals AT&T and Verizon.