Apple's Stock Price Tops $410 to Reach All-Time High
Even as the broader markets are down so far today, Apple's stock price is up a healthy 2.4% over Friday's close, pushing the stock price to an all-time high of over $410 per share. The jump has pushed Apple's market capitalization to $380 billion, giving the company an approximately $25 billion cushion over second-place Exxon Mobil in the rankings of most valuable companies.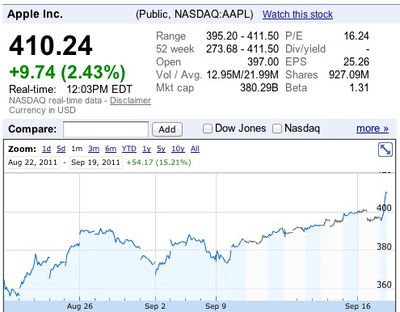 Apple's recent stock performance is evidence of the faith the markets have in Apple even as Tim Cook has officially replaced Steve Jobs as CEO. Apple's stock price initially dropped 5% in after-hours trading following Jobs' resignation but rebounded during regular trading the next day to close down only a fraction of a percentage point. Since that time nearly four weeks ago, Apple's stock is up 15% and is now higher than it had ever been under Jobs.
Update: After touching $413.23 late in the trading day, Apple's stock closed at $411.63 per share today.