Filling out more detail on an earlier report about iPhone 5 component suppliers such as Largan Precision (camera lens module) and TPK (touch panel) operating at full capacity for the upcoming device, CENS/Taiwan Economic News reports that the two manufacturers have confirmed expectations of strong financial performance for the current quarter.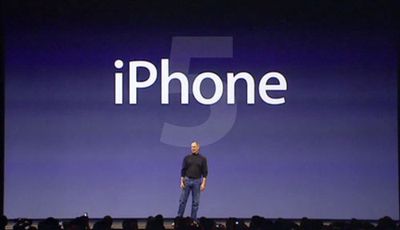 TPK in particular is publicly crediting the iPhone 5 for better-than-expected revenue during the month of August, suggesting the panels for the new device have been "heavily shipped" this month in advance of its public debut.
The company's chief financial officer Freddie Liu attributed the better-than-expected revenue mainly to strong shipment of touch panels for use in iPhone 4, and implied that models for iPhone 5 have been heavily shipped this month.

Driven by the upcoming iPhone 5, Liu mentioned, the company's sales revenue for the third quarter of this year is very likely to further grow from the second quarter to hit a record high, with gross profit rate to reach between 17% and 18% during the period.
For its part, Largan has confirmed that much of its strong performance has been due to production of 8-megapixel camera lens modules. The iPhone 5 has been widely rumored to be adopting an 8-megapixel rear camera, up from the 5-megapixel camera in the iPhone 4.
The company confirmed that the revenue growth was mainly led by increasing shipment of 8-megapixel lens modules, a higher-end product also adopted in iPhone 5.

Institutional investors projected that 8-megapixel lens modules will significantly increase in the third quarter to command nearly a 20% share of the company's overall shipment, serving as a business drive for the months to come.
Apple's primary iPhone manufacturing partner Foxconn is said to already be producing at least 150,000 iPhone 5 units per day, stockpiling devices for installation of the final iOS 5 and packaging for a debut sometime next month.