Apple Rolling Out Remote Diagnostics Tool for iOS Devices?
Hardmac reports that Apple has made an internal announcement that it has completed work on tools that will allow support technicians to utilize remote diagnostics on iOS devices, receiving key information about device state. The report notes that the tools will allow Internet and telephone support staff to provide enhanced device support without customers having to bring their devices in to an Apple store or service center.
In effect, this systems operates entirely online. An email is sent to the device containing a URL (this can alsoo be entered by hand) and the device will connect via Mobile Safari and the telephone to start internal checks and sends the result of it to the Apple servers to which the service centres are connected.
The diagnostic system submits the Unique Device Identifier (UDID), device name, battery health and charging information, installed iOS version, and data on improper hangs and shutdowns.
As noted by AppleInsider, this tool sounds essentially identical to the existing iosdiags.apple.com site, which has been used for some time by Apple retail stores to wirelessly gather system information.
Currently, the Web application only works with an employee Apple ID and is not connected to an iTunes account. The data culled from the service reportedly provides an Apple Genius with the same information they would obtain plugging in an iPhone at the Genius Bar with a USB cable.

The system was said to have been put in place to make it easier to conduct mobile appointments away from the Genius Bar, in an effort to make it less crowded, AppleInsider was told. Using this tool in-store allows an employee to access diagnostic information wirelessly and quickly.
That iOS diagnostic functionality has been around for quite some time, first appearing as an OS X application for Geniuses known as Behavior Scan and used to read diagnostic information from devices connected via USB. That functionality later made its way to iOS in the form of the hidden iOS Diagnostics application, documented in our forums a year ago.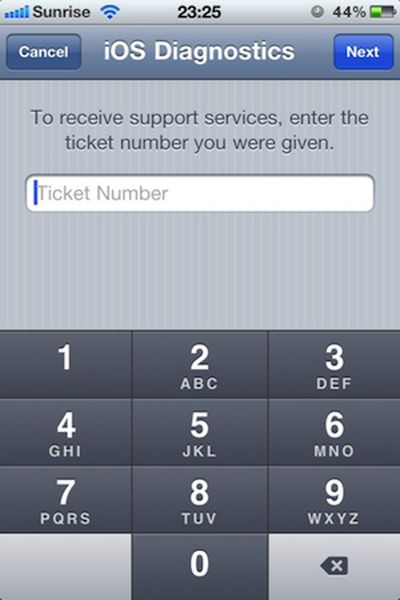 One of our retail contacts has told us that the iOS Diagnostics feature is currently not widely used in retail stores, as it is generally faster and easier to simply plug the device in at the Genius Bar. But it appears that Apple may finally be preparing to officially expand the remote diagnostics to allow users to take advantage of it upon direction from an Apple support agent. The expansion would offer a new method for remote support staff to receive information directly from a device rather than relying on the user to accurately track down and report the relevant details.