Apple Genius Bar Didn't Recognize MacBook Pro 3G Prototype, Apple Now Wants it Back
CNet reports that Apple has finally contacted Carl Frega about a prototype laptop that he had put on sale earlier this month. The laptop appeared for sale on eBay where it received bids upwards of $70,000 before it was pulled at the request of Apple.
The 2007-era MacBook Pro featured a Magsafe Antenna and SIM slot that suggested it was an early prototype of a 3G-capable Apple laptop. CNet reports that Frega was contacted by Apple this afternoon to have someone pick it up.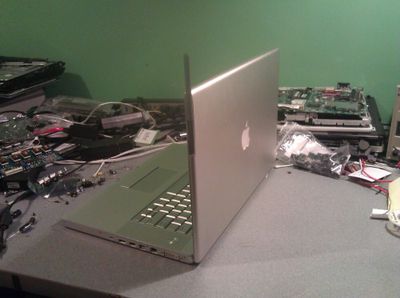 It seems the laptop had a strange journey before ending up in Frega's hands. He originally picked up the machine off someone on Craigslist. He repaired the machine and tried selling it again on Craigslist. The new owner brought the machine to an Apple Store Genius Bar, where the machine was opened and determined to have non-standard parts. The repair invoice describes the reason they refused repair.
Opened machine to observe that nearly every internal part was 3rd party; main logic board, optical drive, display, hard drive, top case, and others. Machine number (W8707003Y53) is also not recognized as a valid number.
Proposed Resolution: Denied services; machine has been modified by unauthorized providers beyond repair."
As a result of these "3rd party" parts, Apple's store refused service. That second buyer took Frega to small claims court thinking the machine was a fake, after which Frega had to accept the machine back and refund the money. It was only after that that Frega tried to sell the laptop on eBay.
Due to the publicity surrounding the eBay sale, Apple has contacted Frega and asked to set up a time to pick up the machine. No word on when it is expected to be returned to Apple.