Prototype 3G MacBook Pro Actually had a 'MagSafe' Antenna
Over the weekend, there had been a lot of interest in what appeared to be a 3G-capable MacBook Pro with an extendable antenna. The original eBay auction reached as high as $70,000 before being removed from the site. The listing was removed at the request of Apple. The seller, however, joined our forums, and provided additional photos and details about the unit.
Much of the initial commentary was about the look of the antenna, but it was actually felt to be nicely designed by the seller of the notebook. He wrote, "really in person it seems quite well designed, and not out of place with the rest of Apple's look."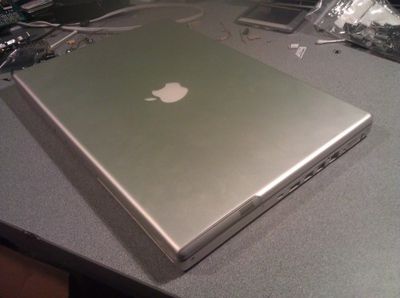 The seller describes the antenna as "quite tiny" and attributes some of the initial reactions to the bad angle. It is said to protrude about 2" from the display when extended. Most notably, it's actually attached to the MacBook Pro with magnets, and can come off. This is shown in the following photos:
Apple has used magnets in their power cords for a number of years to help prevent damage from users accidentally tripping over cables. Apple applied this same design theory to the antenna. Apple had actually applied for a patent on this kind of magnetically attached and extendable antenna back in 2008, and recently republished.


In the patent application, Apple explained the reasoning behind the external antenna. According to Apple, metal enclosures, such as in the MacBook Pro, have a high conductivity which poses a challenge when designing an internal antenna.
The antenna may exhibit improved transmission and reception efficiencies when the antenna is placed in an extended position away from the conductive housing
They also acknowledge that external antennas that permanently protrude have an unattractive appearance and may be susceptible to damage. Their solution was to offer this retractable antenna design. When not in use, the antenna can be stowed and take on the look of the rest of the case design, and when extended, can break away with magnets to avoid damage to the computer.
Obviously, Apple decided against pursuing the design ultimately, but its very interesting to see an actual prototype of a concept that Apple had also submitted a patent for back in 2008.