A Look at Apple's Handling of Customer Emails to Executives as Tim Cook Takes Charge
Steve Jobs has been famous for his willingness to interact with customers via email, issuing terse and sometimes surprisingly candid answers to users' questions and complaints on occasion. With Tim Cook now officially taking the reins at Apple, some have questioned whether he has any interest in similar interactions with customers.
Cook has clearly been flooded with emails over the past few days, many of which have offered him congratulations on his new position. Notably, Cook does seem to be taking the time to respond to those emails, suggesting that he may indeed be interested in personal communication with Apple customers. Most of the responses so far seem to have been of a simple nature thanking the senders, although some have included a bit more detail relevant to the senders' content.
One example given in a comment thread on an article at iDownloadBlog comes from a customer who mentioned that he used Apple products to communicate with his family from Iraq, to which Cook responded thanking him for his military service. Another example comes via an Auburn University fan, who connected with Cook, an Auburn graduate and devoted fan himself, over the school. Cook included in his reply a mention of Auburn's famous "War Eagle" battle cry.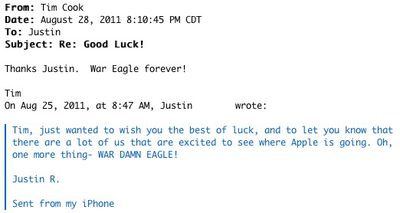 Apple has historically paid close attention to emails sent to Jobs, and will likely continue to do so with Cook. One example of Apple's tracking of executive email contacts has been provided to MacRumors, showing Apple's efforts to respond to early criticisms of its MobileMe service, which experienced a series of missteps at its mid-2008 rollout. According to an internal Apple presentation highlighting the status of MobileMe support issues in early 2009, Apple closely tracked on a day-by-day basis the 242 MobileMe complaint emails sent to Steve Jobs over the first six months of the service's history.


Apple support staff analyzed each of the 242 MobileMe-related emails sent to Jobs over that period, categorizing them by "root cause" in order to better understand where customer complaints were coming from.
Jobs of course remains as Chairman of Apple's board of directors, and his email address presumably will remain active. It is unknown, however, if he will continue to answer customer emails sent his way now that he has stepped down. Jobs does not appear to have answered many emails, if any, in recent months, and thus he may have already stepped away from that communication channel.
And while customers hoping that channels to the chief executive remain open under Cook may be heartened by his recent responses, it remains to be seen whether he will continue to engage with customers via email once the flood of congratulatory messages passes and the emails become more focused on questions and complaints.